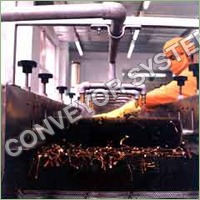 Product Description
Powered Roller Conveyor

Backing with rich experience in this industry, we are recognized as one of the leading manufacturers and suppliers of Powered Roller Conveyor. We design these conveyors by using optimum quality raw material that we procure from specialized vendors of the industry. Before delivering conveyors to our precious clients, we testify our products through different quality parameters to meet with the industry quality norms. We offer conveyors to our clients in varying sizes and capacities as per their demands. Our Powered Roller Conveyor is highly acclaimed by our clients for its features like high conveying flexibility, energy efficiency and high durability. These are widely used in industries in handling cartoon and pallets.


We offer chain-driven powered roller conveyors that are based on "four wheel drive" of the roller conveyor family. Chain driven powered rollers conveyors are known for their amazing power, strength and traction. Owing to strong and powered chain system, the offered chain powered conveyor rollers do not slip that make it a perfect choice for moving heavy products or materials. Different from other conveyors, the motor chain drive powered roller conveyors are generally centrally mounted owing to its amazing quality of allowing even distribution of torque all across the roller bed all together. In addition, this technique allows to create an accumulation system that enables roller bed to split into multiple sections with own separate drive motor and appropriate sensors. Please feel free to contact us for any of your requirements of Powered Roller Conveyors (Chain Drive) for heavy-duty work or complete conveying business solution.


Our Powerised Roller Conveyor/ Powered Roller Conveyors are made for the peculiar applications. These are normally applicative for the heavy blocks, corrugated box, pallets etc. These have assorted types that include the customary powered roller conveyor as well as power & free roller conveyors. These offer consistence execution and extended service life. Company strictly indulges in examining different parameters of the conveyor by the quality control section. Refrigeration, AC and Mechanical industry make the used of these Powerised Roller Conveyors.


These are accessible in the assorted sizes and dimensions in accordance with users' requirements. Goaded by chain conveyors, these are easily transported by the material. When the work location is covered by the dirt, dust and oil these conveyors work equally well in those situations. The performance, functions and specifications provided are the Sprockets speed of just about 15 mtr / min and up to 6000mm Carry objects length. These also have Gear motors of 0.25 hp. The company is backed up by a highly skilled team and are capable to fulfill its customer's demand. The Powerised roller conveyors we offer are totally corrosion and abrasion resistant. These are configured for the flexibility as well as heavy duty usages and are highly useful in all kinds of application and industries.
Get in touch with us