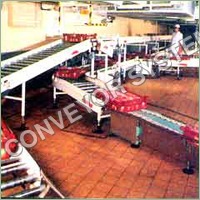 Product Description
Gravity Roller Conveyor
Considering our rich experience in the industry, we are known as a leading manufacturer and supplier of Gravity Roller Conveyor. Our entire range of roller conveyors is engineered by our experts using high quality raw materials and style-of-art technology. Our conveyors have become the preferred choice for our clients because of its unmatched features like high efficiency, high strength and high durability. Clients can patronize these in different capacities and widths & lengths as per their specification requirements. Gravity Roller Conveyor offered by us is widely used for different applications in warehouse, packaging and assembly lines.
Gravity conveyors or non-powered roller conveyors are considered to be the most common and cost-effective means to convey unit loads. The offered conveyors are built with high precision using state of the art technology that enables faster and smoother product movement. Moreover, the offered conveyors are widely used for covering long distances that allows components or parts to pass through multiple workstations.
Following are the key point about the provided conveyors:

Unitized
Enable side loading and unloading
Accumulation of loads and non-contact accumulation
In case, bottom boards are parallel to rollers, pallets can continue loading
In case, bottom boards are perpendicular to the rollers, pallets are able to load
Able to convey loads of fixtures, cartons and cardboard boxes
Gravity Roller Conveyor items either on a level push line or gravity pitched line. The latter being common as the pitch of the conveyor is adjusted so no manual assistance is required for conveying.
Non powered conveyors are less expensive than others.
The system is very flexible and layout can be attach very easily.
Following are the application areas where the offered conveyors are used:

Appliance
Food and Beverage
Warehousing and Distribution
Aerospace
Cabinet and Furniture
Order Fulfillment
Government Agencies
Military
Manufacturing
Cabinet and Furniture
Parcel Handling
Get in touch with us